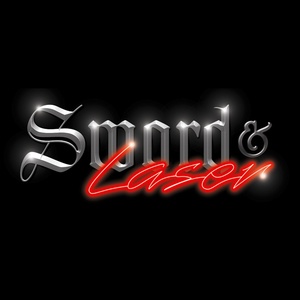 Description:
Edit
The audio podcast of The Sword and Laser went live on Febuary 4th, 2008, with the episode entitled "The Sword and Laser Podcast: Neuromancer Ch. 1-2 ." The podcast originally covered the current book pick in chapter increments; this was last changed to a more general discussion after Tom and Veronica realized they weren't reading the books at the same pace.
A full list of the audio podcasts can be found on the website, under the Podcast category. Each file can be downloaded individually from the bottom of the blog post, and the podcast is also subscribable via iTunes or RSS . Currently, due to limitations of the Squarespace blogging platform, only the most recent eight episodes are viewable at a time.
The audio podcast has spawned several club-specific terms, most popularly "Lem."
Segments:
Edit
Quick Burns
Like the video show, the Quick Burns deals with the latest news in the science fiction and fantasy worlds. However, due to the nature of the audio show, there tends to be more significant and in-depth discussion around these stories than is possible on the YouTube show.
Calendar
The calendar of upcoming releases. There is a Goodreads thread where users can submit ideas for the calendar.
Bare Your Sword
The "feedback from the audience" section. Veronica and Tom highlight threads from Goodreads, which either have to do with the current book pick, or are more general, popular and interesting dicussion topics.
Book Discussion
This is where the brunt of the book discussion happens, obviously. There are different stages of a book discussion: kick-off, check-in, and wrap-up. Tom and Veronica do their best to avoid spoilers, but a wrap-up talk is fair game and spoilers should be expected.