Boneshaker
 by 
Cherie Priest
  was the 53rd official Sword and Laser Book Club selection.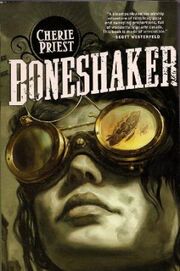 Reading period: Oct 1, 2013 - Oct 31, 2013

How/Why was this book chosen:
It was selected by Veronica.

Sword & Laser Goodreads Group Discussion of Boneshaker

Sword & Laser Podcasts and Videos: Kick Off: S&L 144 Check In: S&L 146 Wrap Up: S&L 148
Boneshaker by Cherie PriestEdit
Cherie Priest's much-anticipated steampunk debut has finally arrived in the form of a paperback original. Its plot features the sort of calibrated suspense that readers of her Four and Twenty Blackbirds would expect.Boneshaker derives its title from the Bone-Shaking Drill Engine, a device designed to give Russian prospectors a leg up in the race for Klondike gold. Unfortunately, there was one hitch: On its trial run, the Boneshaker went haywire and, long story short, turned much of Seattle into a city of the dead. Now, 16 years later, a teenage boy decides to find out what is behind that mysterious wall. Can his mother save him in time? Zombie lit of the first order.