The Mists of Avalon
by
Marion Zimmer Bradley
was the 15th official Sword and Laser Book Club selection.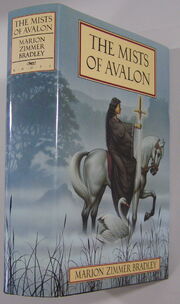 Reading period: Oct 6, 2009 - Dec 16, 2009

How/Why was this book chosen: Tom and Veronica chose it.

Sword & Laser Podcasts: Kick Off: S&L 24 Check In: S&L 25 Wrap Up: S&L 26
The Mists of Avalon by Marion Zimmer BradleyEdit
Here is the magical legend of King Arthur, vividly retold through the eyes and lives of the women who wielded power from behind the throne. A spellbinding novel, an extraordinary literary achievement, THE MISTS OF AVALON will stay with you for a long time to come....