The Sword and Laser
2015
From April 15, 2015 to May 31, 2015 and December 1, 2015 to January 15, 2016, The Sword and Laser ran two promotional contests with the publisher and crowdfunding website Inkshares. Four titles were chosen to be included in the Sword and Laser collection and were published by Inkshares under the Sword and Laser imprint.
An Unattractive Vampire by Jim McDoniel - A darkly comic urban fantasy of ancient horrors in suburban cities.
Asteroid Made of Dragons by G. Derek Adams - A preposterous fantasy crisis with resolutions remarkable and losses lamentable.  May contain minotaur tea parties.

The Life Engineered by JF Dubeau - Can our robot descendants avoid repeating the mistakes of humanity?

The Animal in Man by Joseph Asphahani - An artifact of immense power puts Maxan in the middle of a secret war between mighty guilds. To overcome the resourceful and sinister masters who would use him, use everyone, as puppets, he must decide which nature defines him. Animal, or man?
2014
Sword and Laser Anthology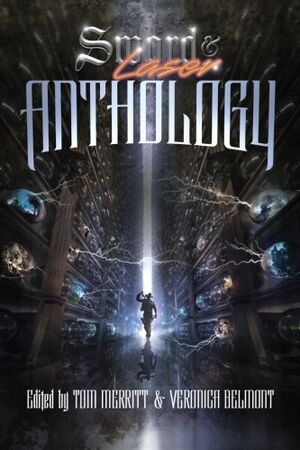 edited by Veronica Belmont & Tom Merritt
Twenty never-before-published short stories span the worlds of science fiction and fantasy, inviting readers of both genres to lose themselves in tales sometimes humorous, sometimes terrifying, and always engrossing.
Sword & Laser hosts Veronica Belmont and Tom Merritt hand-picked their favorite stories, plucked directly from the brains of the S&L audience. From living space ships to hapless thieves getting more than they bargained for, this collection has something for every genre reader.
Amazon (and Kindle) / Lulu (DRM-free) / Barnes and Noble (Nook)
Some of these stories show brilliance. And not just flashes of brilliance, either. Not just a thin gilding of brilliance over the surface of a clunky tin meh. I'm talking about solid brilliance. - Patrick Rothfuss
This anthology is a triumph, and the SFF community needs more like it. The stories in here are from up-and-coming authors, and while not perfect, is a damn refreshing read that deserves your attention. - SFSignal
Not only does the trove of tales impress with creativity, its breadth includes delights for the full spectrum of speculative-fiction readers. - Fantasy Faction
2014
2007
2011
2012
2013
2014