Welcome to the Sword & Laser Wiki
The Sword and Laser (a.k.a. Sword & Laser) is a science fiction and fantasy podcast, video show on YouTube, and book club founded by Tom Merritt and Veronica Belmont in October, 2007. Most of the discussion about the shows and books occurs over on the Goodreads forums. This wiki is meant as a repository for terms, information on hosts and guests, cover galleries, lists, and whatever else you guys come up with!
MERCHANDISE AND FUNDRAISING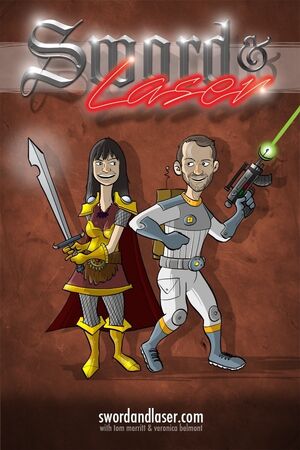 By Scott Johnson 2012
2020/03/11 The World Health Organization declared COVID-19 a pandemic.
2020/03/17 Tom's sequel to Pilot X, Trigor, was published by Inkshares.
2020/06 Sword and Laser face masks went on sale.
2020/12 Veronica went on maternity leave. She and Ryan welcomed their son Julian into the world.
2020/12/17 The 400th episode of Sword and Laser was released.
---