The Hundred Thousand Kingdoms
by
N. K. Jemisin
was the 27th official Sword and Laser Book Club selection.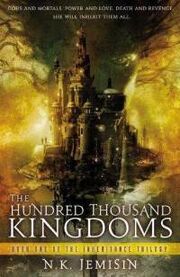 Reading period: May 2, 2011 - Jun 1, 2011

How/Why was this book chosen:
Veronica picked it after it was suggested by Patrick Rothfuss in their interview with him.

Sword & Laser Goodreads Group Discussion of The Hundred Thousand Kingdoms
Sword & Laser Podcasts: Kick Off: S&L 61 Check In: S&L 62 S&L 63 Wrap Up: S&L 64
The Hundred Thousand Kingdoms by N.K.JemisinEdit
Yeine Darr is an outcast from the barbarian north. But when her mother dies under mysterious circumstances, she is summoned to the majestic city of Sky. There, to her shock, Yeine is named an heiress to the king. But the throne of the Hundred Thousand Kingdoms is not easily won, and Yeine is thrust into a vicious power struggle with cousins she never knew she had. As she fights for her life, she draws ever closer to the secrets of her mother's death and her family's bloody history.

With the fate of the world hanging in the balance, Yeine will learn how perilous it can be when love and hate - and gods and mortals - are bound inseparably together.