The Magicians
by
Lev Grossman
was the 35th official Sword and Laser Book Club selection.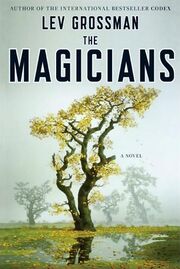 Reading period: Apr 13th 2012 - May 1st 2012

How/Why was this book chosen: Veronica and Tom chose this to kick off the new video show

Sword & Laser Goodreads Group Discussion of The Magicians
Sword & Laser Podcasts and Videos: Kick Off: S&L Video 1 S&L 97 Check In: S&L 98
Wrap Up: S&L 99 S&L Video 2
The Magicians by Lev GrossmanEdit
Quentin Coldwater is brillant but miserable. He's a senior in high school, and a certifiable genius, but he's still secretly obsessed with a seri es of fantasy novels he read as a kid, about the adventures of five children in a magical land called Fillory. Compared to that, anything in his real life just seems gray and colorless.
Everything changes when Quentin finds himself unexpectedly admitted to a very secret, very exclusive college of magic in upstate New York, where he rece
ives a thorough and rigorous education in the practice of modern sorcery. He also discovers all the other things people learn in college: friendship, love, sex, booze, and boredom. But something is still missing. Magic doesn't bring Quentin the happiness and adventure he though it would.
Then, after graduation, he and his friends make a stunning discovery: Fillory is real.