Time and Again by Jack Finney was the 78th official Sword and Laser Book Club selection.
Reading
period:
 Nov 1, 2015 - Nov 30, 2015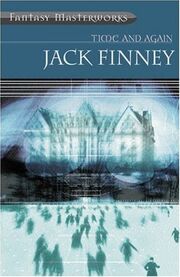 How/Why was this book chosen: It was chosen by a poll of Sword and Laser
Sword & Laser Goodreads Group Discussion of Time and Again
Time and Again by Jack Finney
Science fiction, mystery, a passionate love story, and a detailed history of Old New York blend together in Jack Finney's spellbinding story of a young man enlisted in a secret Government experiment.  Transported from the mid-twentieth century to New York City in the year 1882, Si Morley walks the fashionable "Ladies' Mile" of Broadway, is enchanted by the jingling sleigh bells in Central Park, and solves a 20th-century mystery by discovering its 19th-century roots. Falling in love with a beautiful young woman, he ultimately finds himself forced to choose between his lives in the present and the past.  A story that will remain in the listener's memory, "Time and Again" is a remarkable blending of the troubled present and a nostalgic past, made vivid and extraordinarily moving by the images of a time that was...and perhaps still is.
---
Other books in the Time Series
<-Previous Pick (The Traitor Baru Cormorant)                                          Following Pick (Arrows for the Queen)->